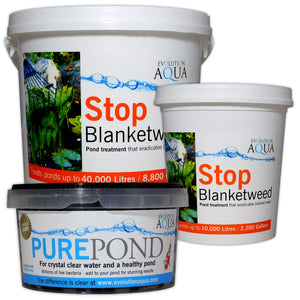 Evolution Aqua Stop Blanketweed & Pure Pond
Regular price

From £20.95
Incl. Free UK delivery
SKU: 1021168
Fantastic Bundle Deal of two Evolution Aqua treatments for your pond! Help keep your pond free of blanketweed and maintain clear & healthy water.
Pay up to 30 days later or split your payment into three with Klarna.
Click here for more info.
Pond Volume Calculator
Product Description
Reviews
Finance
Delivery & Returns
Product Description
Evolution Aqua Stop Blanketweed
STOP Blanketweed is an effective treatment of filamentous algae, commonly known as blanket weed in ornamental and garden ponds. Blanket weed is one of the most hated problems of pond keeping and a nuisance to everyone as it makes your pond unsightly, blocks filters, pumps and pipes. STOP Blanketweed is a unique product which will successfully eradicate blanket weed when used as instructed.
Stop Blanketweed is available in sizes of 1kg which is suitable for ponds up to 10,000 litres or 2,200 gallons, 2.5kg containers suitable for 25,000 litres or 5,500 gallons and 4kg containers for 40,000 litres or 8,800 gallons.
Evolution Aqua Pure Pond
Pure Pond is our Award Winning bacterial product that helps to maintain crystal clear and healthy pond water.
PURE POND are biodegradable balls, crammed full of live bacteria and enzymes that when added to your pond filter get to work breaking down Ammonia and Nitrite, whilst cleaning up organic waste.
The bacteria and enzymes are slowly released when they are needed most to address biological issues in the pond that are often the cause of poor clarity.
PURE POND balls work particularly well within the Nexus filtration system helping to smooth out any peaks and troughs in the Ammonia / Nitrite cycle. Simply add the balls into you biological chamber, ideally held within a filter bag, where they will agitate alongside the K1 Media.
When using PURE POND balls as a maintenance product, especially when added once a month into your filter, the balls will help to maintain crystal clear and healthy water.
Please note PURE POND is not intended to clear green water. An appropriate UVC is recommended to clear green water.
Bacteria and enzymes delivered in gel-like balls
Maintains crystal clear and healthy water
Breaks down ammonia and nitrite
Cleans up organic waste
Reduces filter maintenance and cleaning
Ideal for use as a maintenance product
Suitable for use in all types of ponds
Add to filter for best results
Reviews
Finance
Aquacadabra acts as credit broker/intermediary and not as a lender.
Klarna's credit products are provided by Klarna Bank AB, which is authorised and regulated by the Swedish Financial Services Authority, with limited supervision by the Financial Conduct Authority. More information can be found here.
Newpay finance options are provided through Deko's platform by NewDay. P.D. Aquatics Ltd, t/a Aquacadabra is an Introducer Appointed Representative of Pay4Later Ltd, t/a Deko, which is authorised and regulated by the Financial Conduct Authority (ref no 728646) and is a credit broker, not a lender. NewDay Ltd is authorised and regulated by the Financial Conduct Authority (ref no 690292) and is authorised by the Financial Conduct Authority under the Payment Services Regulations 2017 for the provision of payment services (ref no 555318). More information can be found by clicking the newpay option above, or in the Newpay FAQs.
Delivery & Returns
We really want you to be happy with the product that you've received. If however, when the goods arrive they're not what you want, then no problem - we have a 60 day no quibble return guarantee. Just let us know that you're going to return the item(s) by contacting us (stating your Order Number) and complete the returns packing slip that will have been included with your delivery. This will help us to quickly identify the item that you have returned (unopened and unused) - and we'll put a refund through for you.
Share This