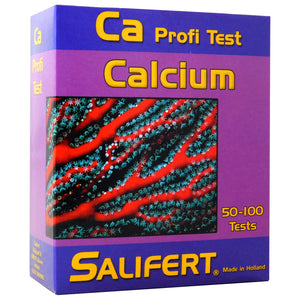 Salifert Calcium Profi Test Kit - 5187
SKU: 1014845
Salifert's Calcium Profi Test Kit can provide between 50 and 100 tests - helping you to monitor the calcium levels within your aquarium. Calcium is fundamentally import to marine inverts and a constituent of coralline algae, so make sure you have a sufficient level.
Pay up to 30 days later or split your payment into three with Klarna.
Click here for more info.
Product Description
Reviews
Finance
Delivery & Returns
Product Description
Calcium is a major constituent of coralline algae, the skeletal material of hard corals and the skeletal needles of soft/leather corals. In many cases too low a calcium concentration retards coral and coralline algae growth. Calcium also fulfils many important biological functions.
In a healthy aquarium, the growth and multiplication of corals, calcareous algae and other organisms can result in calcium depletion. To maintain a stable environment it is important that the calcium content should not fluctuate by more than 15 mg/L from the optimum range of 420 - 450 mg/L so regular testing should be carried out.
This means that any calcium test used should have an accuracy of significantly less than 15mg/L otherwise it will be difficult to monitor such fluctuations.
The Salifert test kit measures in steps of 5 mg/L and has an accuracy of 10 mg/L.
The colour change is precise, detecting small but significant fluctuations in the concentration of calcium.
The test is not affected by magnesium.
Saliferts Coral Calcium additive is a highly concentrated additive which makes calcium addition easy.
Sufficient for at least 50 tests
Reviews
Finance
Aquacadabra acts as credit broker/intermediary and not as a lender.
Klarna's credit products are provided by Klarna Bank AB, which is authorised and regulated by the Swedish Financial Services Authority, with limited supervision by the Financial Conduct Authority. More information can be found here.
Newpay finance options are provided through Deko's platform by NewDay. P.D. Aquatics Ltd, t/a Aquacadabra is an Introducer Appointed Representative of Pay4Later Ltd, t/a Deko, which is authorised and regulated by the Financial Conduct Authority (ref no 728646) and is a credit broker, not a lender. NewDay Ltd is authorised and regulated by the Financial Conduct Authority (ref no 690292) and is authorised by the Financial Conduct Authority under the Payment Services Regulations 2017 for the provision of payment services (ref no 555318). More information can be found by clicking the newpay option above, or in the Newpay FAQs.
Delivery & Returns
We really want you to be happy with the product that you've received. If however, when the goods arrive they're not what you want, then no problem - we have a 60 day no quibble return guarantee. Just let us know that you're going to return the item(s) by contacting us (stating your Order Number) and complete the returns packing slip that will have been included with your delivery. This will help us to quickly identify the item that you have returned (unopened and unused) - and we'll put a refund through for you.
Share This