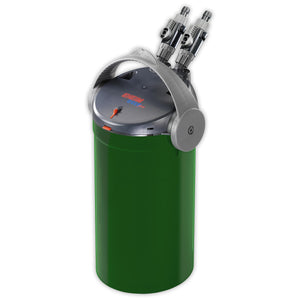 Eheim Ecco Pro 300 External Filter - 2036510
SKU: 1014144
The multifunction handle, with worldwide patent-pending technology, is unique to the EHEIM Ecco filter. This is how it works. In addition to locking and unlocking the filter and use as a carrying handle, it functions as a priming device. After simply connecting the intake and output hoses, and arranging your media baskets, move the multifunction handle down to the start position. The water flow will begin. When the filter is full, just plug and play.
Pay up to 30 days later or split your payment into three with Klarna.
Click here for more info.
Product Description
Reviews
Finance
Delivery & Returns
Product Description
Eheim Ecco Pro 300 filters are really easy to use, with their unique multi function handle minimising the mess associate with cleaning external filters. The filter has two in built taps to stop the flow of water in and out of the canister. When cleaning, simply unplug the power, then close the valves. Once done, the hoses can be safely unscrewed, detaching the filter from its installed position below the aquarium. When operating, the multi function handle remains in an upright position, so this can be used carry the filter to a sink for maintenance, no fuss and not mess!
The Eheim Ecco Pro 300s multi function handle is then used to open up the canister. Older design filters such as the Eheim Classic or the original Fluval'03 range used to be difficult to open, as an air lock would form once any taps were closed. The Eheim Ecco Pro 300s multi function handle addresses this, making it easy to open the canister by simply moving he handle to a horizontal position. Once done, the top can be removed to provide access to the filter media.
Again the Ecco Pro's multi function provides benefits when you have finished with maintanence. Simply ensure the O ring seal is free from dirt, then place the pump housing on top of the canister and by moving the handle to a vertical position, the pump house locks onto the canister forming a water tight seal.
The Multi Function handle associated with the Eheim Ecco Pro 300 is truely unique and make this external filter a great piece of equipment!
The Eheim Ecco filter are delivered complete with media, fittings, and valves. The convenient interlocking media baskets allow for versatility in media set up while preventing water by-pass. With proper media set up, a long service life can be expected, on average 3-6 months between cleanings.
The intake and output hose attachments are designed to swivel 360 degrees to ensure kink-free hose connections. A silicone-based integrated o-ring ensures leak-free secure operation. With a new handy impeller cover, annual impeller maintenance could not be easier.
Eheim hermetically sealed motor technology guarantees efficient low-energy consumption, safe operation with long-life expectancy.
The Eheim Ecco Pro 300 is suitable for tanks up to 300lts.
We stock the full range of Eheim products, including filter medias designed specifically for this filter. This includes coarse blue filter pads, ehfisynth fine white filter pads and carbon filter pads. We also stock the full range of spares and accessories for this external filter, so if you damage an O ring seal or accidently drop and break the canister when cleaning your filter, we have the spares available to get you back up and running as quickly as possible.
Reviews
Finance
Aquacadabra acts as credit broker/intermediary and not as a lender.
Klarna's credit products are provided by Klarna Bank AB, which is authorised and regulated by the Swedish Financial Services Authority, with limited supervision by the Financial Conduct Authority. More information can be found here.
Newpay finance options are provided through Deko's platform by NewDay. P.D. Aquatics Ltd, t/a Aquacadabra is an Introducer Appointed Representative of Pay4Later Ltd, t/a Deko, which is authorised and regulated by the Financial Conduct Authority (ref no 728646) and is a credit broker, not a lender. NewDay Ltd is authorised and regulated by the Financial Conduct Authority (ref no 690292) and is authorised by the Financial Conduct Authority under the Payment Services Regulations 2017 for the provision of payment services (ref no 555318). More information can be found by clicking the newpay option above, or in the Newpay FAQs.
Delivery & Returns
We really want you to be happy with the product that you've received. If however, when the goods arrive they're not what you want, then no problem - we have a 60 day no quibble return guarantee. Just let us know that you're going to return the item(s) by contacting us (stating your Order Number) and complete the returns packing slip that will have been included with your delivery. This will help us to quickly identify the item that you have returned (unopened and unused) - and we'll put a refund through for you.
Share This