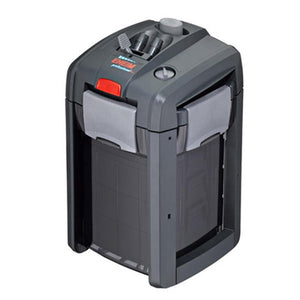 EHEIM Pro 4+ External Filter 350 (2273)
SKU: 1019897
The Eheim Professional 4+ has arrived. This Professional 350 External Filter is suitable for fish tanks up to 350lts in size - both freshwater and marine. They can house a huge volume of filter media - helping you to keep your system nice and healthy.
Pay up to 30 days later or split your payment into three with Klarna.
Click here for more info.
Product Description
Reviews
Finance
Delivery & Returns
Product Description
The EHEIM professionel 4+ – our best external filter but now with an integrated 'emergency' button.
EHEIM have adopted the many advantages of the professional 3 series – powerful performance, optimal energy efficiency, quiet operation, priming aid, safety hose adapter – but we have also improved the technology by incorporating the new 'Xtender' button.
In the event the output is reduced due to the fine filter media blocking, the button can be adjusted to redirect the flow. The biological filtration is main-tained and the service interval can be extended by a few days.
There are 3 sizes available for aquariums up to 250, 350 and 600 litres. The models 250 and 350 are also available with an integrated heater as thermo filter (T). In addition, the professionel 350e can be electronically controlled from a PC.
Advantages of the EHEIM professionel 4+ 350 filter
Premium class external filters with all the advantages of the professionel 3 series
For aquariums from 180L to 350L
Additional control function (Xtender) to counteract blocked filter media and extend intervals between cleaning
Square canister for high stability and large filter volume
High flow capacity with low energy consumption
Adjustable pump output.
High performance ceramic axle guarantees quiet running and durability
Integrated self priming aid to initially prime the filter
Safety hose adapter can only be removed when the valves are closed
Top prefilter effectively traps large dirt particles and allows for longer service intervals. Simple to remove and easy to clean.
Individually filter baskets with "Easy Clean" grid
Fully equipped with original EHEIM filter media and installation accessories.
EHEIM Pro 4+ External Filter 350 Specifics
EAN
4011708224977
Article No.
2273020
UPC
(-)
For aquariums of about.
180.00 l
For aquariums up to approx.
350.00 l
Pump power (50 Hz) per hour of approx.
1,050.00 l
Pumping head approx. (H max at 50 Hz)
1.80 m
Power(50 Hz) to
16 watt
Filter volume
5.00 l
Pre filter volume
0.50 l
Container volume
7.40 l
Width
238.00 mm
Height
398.00 mm
Depth
244.00 mm
Installation height
180.00 cm
Voltage
230 volt
Standard power plug
EUR
Packing
1 Part (s)
Packing dimensions(Width)
29.80 cm
Packing dimensions(Height)
44.30 cm
Packing dimensions(Depth)
24.00 cm
Hose Ø Suction side(inside)
16.00/22.00  mm
Hose Ø Druckseite(inside)
16.00/22.00  mm
Freshwater
yes
Sea water
yes
For outdoor use
no
Reviews
Finance
Aquacadabra acts as credit broker/intermediary and not as a lender.
Klarna's credit products are provided by Klarna Bank AB, which is authorised and regulated by the Swedish Financial Services Authority, with limited supervision by the Financial Conduct Authority. More information can be found here.
Newpay finance options are provided through Deko's platform by NewDay. P.D. Aquatics Ltd, t/a Aquacadabra is an Introducer Appointed Representative of Pay4Later Ltd, t/a Deko, which is authorised and regulated by the Financial Conduct Authority (ref no 728646) and is a credit broker, not a lender. NewDay Ltd is authorised and regulated by the Financial Conduct Authority (ref no 690292) and is authorised by the Financial Conduct Authority under the Payment Services Regulations 2017 for the provision of payment services (ref no 555318). More information can be found by clicking the newpay option above, or in the Newpay FAQs.
Delivery & Returns
We really want you to be happy with the product that you've received. If however, when the goods arrive they're not what you want, then no problem - we have a 60 day no quibble return guarantee. Just let us know that you're going to return the item(s) by contacting us (stating your Order Number) and complete the returns packing slip that will have been included with your delivery. This will help us to quickly identify the item that you have returned (unopened and unused) - and we'll put a refund through for you.
Share This