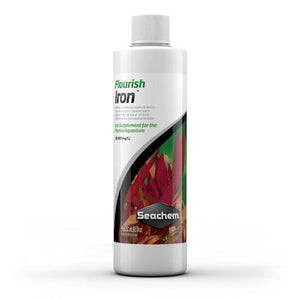 Seachem Flourish Iron 500ml
SKU: 1020589
Seachem Flourish Iron is a great water supplement for planted aquariums, giving your water chemistry an all-important boose of essential iron to be used by your plants in their growth and maintenance, giving them the best chance at growing into a beautiful water-bed of floral design.
Pay up to 30 days later or split your payment into three with Klarna.
Click here for more info.
Product Description
Reviews
Finance
Delivery & Returns
Product Description
Flourish Iron is a highly concentrated (10,000 mg/L) ferrous iron (Fe+2) gluconate supplement. It should be used in those cases where the iron requirements exceed that which can be delivered by Flourish at the recommended dose or signs of iron deficiency appear (such as short and slender stems or yellowing between veins.) Contains no phosphate or nitrate.
Why it's different:
Plants are able to much more easily derive a benefit from Flourish Iron than from EDTA-iron sources because all EDTA iron is in the ferric (Fe+3) state. Since plants require iron in the ferrous (Fe+2) state, additional physiological energy must be expended in order to extract the ferric iron from EDTA-iron and then convert it to the ferrous form.
Directions:
Use 1 capful (5 mL) for each 200 L (50 gallons*) or as required to maintain about 0.10 mg/L iron. For smaller doses please note that each cap thread is about 1 mL. Use MultiTest: Iron test kit to monitor iron concentrations. Use as needed to combat signs of iron deficiency (usually seen in new growth) which include: chlorosis (yellowing) of tissue between veins and short and slender stems.
Reviews
Finance
Aquacadabra acts as credit broker/intermediary and not as a lender.
Klarna's credit products are provided by Klarna Bank AB, which is authorised and regulated by the Swedish Financial Services Authority, with limited supervision by the Financial Conduct Authority. More information can be found here.
Newpay finance options are provided through Deko's platform by NewDay. P.D. Aquatics Ltd, t/a Aquacadabra is an Introducer Appointed Representative of Pay4Later Ltd, t/a Deko, which is authorised and regulated by the Financial Conduct Authority (ref no 728646) and is a credit broker, not a lender. NewDay Ltd is authorised and regulated by the Financial Conduct Authority (ref no 690292) and is authorised by the Financial Conduct Authority under the Payment Services Regulations 2017 for the provision of payment services (ref no 555318). More information can be found by clicking the newpay option above, or in the Newpay FAQs.
Delivery & Returns
We really want you to be happy with the product that you've received. If however, when the goods arrive they're not what you want, then no problem - we have a 60 day no quibble return guarantee. Just let us know that you're going to return the item(s) by contacting us (stating your Order Number) and complete the returns packing slip that will have been included with your delivery. This will help us to quickly identify the item that you have returned (unopened and unused) - and we'll put a refund through for you.
Share This