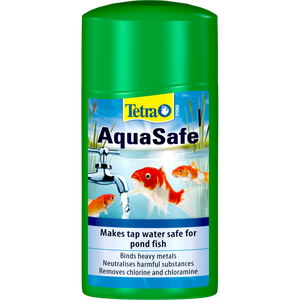 Tetra Pond Aquasafe 1L
SKU: 1010476
Tetra Aquasafe is perfect for removing chlorine and any harmful metals within your tap water.
Pay up to 30 days later or split your payment into three with Klarna.
Click here for more info.
Pond Volume Calculator
Product Description
Reviews
Finance
Delivery & Returns
Product Description
Makes tap water safe for fish by removing harmful compounds and adding beneficial substances.
At times it is necessary to add tap water to the pond, following maintenance or evaporation. Tap water is designed for human use, and therefore contains high levels of chlorine to kill germs. In addition, it may contain varying levels of toxic heavy metals. Both chlorine and heavy metals are toxic to fish, and will cause them long-term damage and stress. Leaving water to stand will not remove all of these factors, and so is not an alternative to using a water conditioner. AquaSafe neutralises harmful elements in tap water, and adds beenficial substances to create healthy, fish-friendly water.
Contains special compounds that eliminate chlorine and chloramine, and bind up heavy metals.
Contains colloids that coat the fish, protecting them against infection.
Unlike most water conditioners, AquaSafe leaves no residues and is completely broken down to harmless substances
Application
Add 50ml of TetraPond AquaSafe to every 1000 litres (220 gallons) of water, to remove heavy metals and chlorine. Either treat mains water prior to using it in the pond, or treat the whole pond with AquaSafe prior to topping it up with mains water. For improving fish health and aiding wound recovery, add AquaSafe at 25ml per 1000 litres (220 gallons) every 2-3 weeks.
Reviews
Finance
Aquacadabra acts as credit broker/intermediary and not as a lender.
Klarna's credit products are provided by Klarna Bank AB, which is authorised and regulated by the Swedish Financial Services Authority, with limited supervision by the Financial Conduct Authority. More information can be found here.
Newpay finance options are provided through Deko's platform by NewDay. P.D. Aquatics Ltd, t/a Aquacadabra is an Introducer Appointed Representative of Pay4Later Ltd, t/a Deko, which is authorised and regulated by the Financial Conduct Authority (ref no 728646) and is a credit broker, not a lender. NewDay Ltd is authorised and regulated by the Financial Conduct Authority (ref no 690292) and is authorised by the Financial Conduct Authority under the Payment Services Regulations 2017 for the provision of payment services (ref no 555318). More information can be found by clicking the newpay option above, or in the Newpay FAQs.
Delivery & Returns
We really want you to be happy with the product that you've received. If however, when the goods arrive they're not what you want, then no problem - we have a 60 day no quibble return guarantee. Just let us know that you're going to return the item(s) by contacting us (stating your Order Number) and complete the returns packing slip that will have been included with your delivery. This will help us to quickly identify the item that you have returned (unopened and unused) - and we'll put a refund through for you.
Share This